You have built beautiful nesting boxes for your hens to lay in and you have waited for at least 16 weeks for them to begin laying eggs in them, but instead they decide to lay on the coop floor or off under a bush somewhere! You just need to know how to get chickens laying in their nesting box.
Don't worry, with the right coaxing, you can get them to begin laying where you want them to……in the nesting box!
1. Add Dried Herbs to Nesting Boxes
There are so many benefits to adding fresh or dried herbs to the nesting boxes! They not only can calm your hens, but they will help to deter mites, lice, fleas and other insects and parasites from visiting.

5 Important Ways To Use Herbs Around Your Chickens
Increases egg laying naturally.
Improves chicken health.
Deters parasites (flies too!)
On SALE!
Not only are there health benefits to sprinkling herbs in the nesting boxes, but it can also help to increase a hens egg production!
9 HERBS THAT
STIMULATE
EGG LAYING
1. MARIGOLDS
2. ROSEMARY
3. FENNEL SEED
4. PARSLEY
5. PEPPERMINT
6. MARJORAM
7. DANDELION LEAF
8. CHAMOMILE
9. LAVENDER
2. Provide the Right Number of Nesting Boxes for Your Hens
As a general rule of thumb, you want 1 nesting box for every 3 or 4 laying hens. So, for 12 chickens, you should have 3 or 4 nesting boxes.
This is what is recommended, but most chicken owners will tell you that no matter how many nesting boxes they provide for their hens, they all will squawk over one or two nesting boxes.
I have 6 nesting boxes for 18 hens and only 3 of the boxes get used. My hens will anxiously wait in line like ladies waiting to go to the bathroom for that one special nesting box!
Visit your local Tractor Supply Company for some good quality nesting boxes and other chicken supplies too!
3. Make Sure Nesting Boxes are Proper Size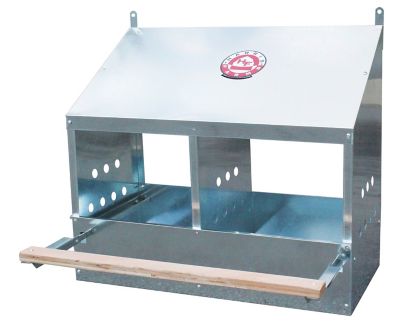 Harris Farms 2-Hole Nesting Box, 1000300
Harris Farms 2-Hole Nesting Box, 1000300 [More]
Are your nesting boxes big enough for your hens? Nesting boxes should be 12″ (L) x 12″ (W) x 12″ (H). If you have bantam hens, you can get away with a little bit smaller.
If the nesting boxes are too big, you are likely to have several hens try to squeeze in there at once.
To be honest with you, even if they are the right size for one full size hen, you may still have one or two hens sitting right on top of the other. Many times, hens have a favorite box to lay in and they get impatient waiting to lay.
They are kind of like kids. They all want what the other has. You may have 10 nesting boxes, but only 3 are used for laying because the hens all want to lay in the same boxes.
4. Locate Nesting Boxes in a Dark, Quiet Area
Hens instinctively like to lay eggs in a dark, quiet area. They will seek out a location like this because it makes them feel safe.
When trying to figure a placement for your nesting boxes, try to place them in an area that doesn't have a lot of foot traffic in and out.
Don't place them in an area close to a neighbors barking dog or where there are frequent loud noises.
If your hens don't feel safe, they will seek out a spot where they do and it is often in a dark, quiet area.
5. Make Sure Nesting Boxes are at the Right Level
Nesting boxes should be up off of the floor. Hens are more at risk of predator attack if the nesting boxes are on the ground.
Place the nesting boxes at least 18″ off of the ground. This way, hens are less vulnerable to predators and will feel more secure laying eggs in there.
All nesting boxes should be lower than the lowest roosting bar in your coop. If you have nesting boxes that are higher than your lowest roosting bar, you are likely to have some chickens that sleep in the nesting boxes.
Chickens will always try to roost in the highest locations because they know they are less vulnerable to attack at night.
Because silkies cannot fly, nesting boxes that are too high will be difficult for them to get to. If they cannot reach the nesting boxes, they will find a nice corner to lay instead.
Larger breeds may also have a difficult time getting into nesting boxes if they are up too high.
6. Add Curtains to Your Nesting Boxes
If your hens are not choosing to lay inside the nesting boxes, try adding curtains to them to provide a little more privacy. Hens like to lay their eggs in a dark, quiet location.
Sometimes dressing it up with a set of curtains for additional privacy is all it takes.
7. Provide Good Nesting Material
Hens like a soft, comfortable place to lay their eggs. Make her feel comfortable by providing good nesting material for her to lay her egg in.
There are so many different beddings to choose from. Some good choices for laying material include the following:
NESTING MATERIAL
CHOICES
PINE SHAVINGS
CEDAR SHAVINGS
HAY
STRAW
NESTING BOX MATS
SHREDDED PAPER
SHREDDED LEAVES
LAWN CLIPPINGS
SAND
HEMP BEDDING
8. Keep the Nesting Boxes Clean
The boxes can get dirty, especially if a hen poops in it or it is muddy outside and the hen tracks it in.
Hens like to lay eggs in a clean location. Try to make it a daily habit to inspect the nesting boxes. Use apple cider vinegar spray (1 tsp of ACV for 10 oz of water.) to sanitize and kill any parasites that may be lurking.
Dump any bedding that is soiled or dirty.
Spray nesting boxes with apple cider vinegar and water solution.
Spray nesting box walls.
Replace with fresh bedding.
Add fresh herbs to stimulate laying. (see list below)
9. Block Off Unwanted Laying Areas
Sometimes a hen will find a favorite spot, not in her nesting box, that she is determined to always lay her eggs. Block any of these spots off and if you see her trying to go to this area, pick her up and bring her to a nesting box to lay.
If she leaves, pick her up and put her back into the nesting box. Keep doing this until she gives up and lays in the right place.
10. Cool the Coop
Sometimes, especially during the warm summer months, chickens choose not to lay in the nesting boxes because it is just too hot in there.
Try adding a fan to the coop or adding additional ventilation to cool down the laying area.
11. Have Nesting Boxes Available for Pullets Around 16 Weeks
Some hens will begin laying as early as 16 weeks old. If you have been keeping your laying boxes closed to discourage your pullets from sleeping in them, it's time to open them up.
Have the nesting boxes available so pullets that are approaching laying age can investigate them. Many times hens will get curious and check out the nesting boxes.
Make the nesting boxes inviting so they will feel comfortable laying their eggs in them.
12. Don't Let Hens Free Range Until the Afternoon
Most hens lay in the early morning. Either don't let them out of the coop or set your automatic chicken door to open later in the morning or early afternoon to prevent them from laying outside of the chicken coop.
Usually hens will see others laying in the nesting boxes and want to do the same, but this is not always the case. Especially for new layers.
You may still need to observe the new layers during this time and correct them if they are not laying in their nesting boxes.
13. Add "Fake Eggs" to Nesting Boxes
Add some "fake eggs" to the nesting boxes. Some people call these "dummy eggs," or "nesting eggs." These are eggs that look, feel and even weigh the same as what they will be laying.
This will help to teach them, "This is where I should go to lay my egg." Your hen will think of it as a safe place for her to lay her eggs if she sees other "eggs" there.
14. Place Hen in the Nesting Box
Sometimes when hens are new to laying eggs, they will go in the wrong place. Kind of like potty training!
When this happens, you will need to spend a little bit more time training them in the morning. Make more frequent visits and if you catch them laying in the wrong spot, pick them up and place them in a nesting box.
If they are free ranging chickens, keep them inside until in the afternoon. This way, they will have less places to choose to lay in.
Conclusion: How to Get Chickens Laying in Their Nesting Boxes
Sometimes you can do everything possible to make the nesting boxes desirable for your hens. So desirable that if you were a hen, you would even lay an egg in there! But your hens may still choose to lay their eggs on the coop floor or under a bush.
Try sprinkling some dried herbs inside your hens nesting boxes. This will help to stimulate egg laying.
Make sure the nesting boxes are in a quiet, dark location and are filled with fresh pine shavings that you dusted with herbs to encourage egg laying.
Make the nesting boxes a well ventilated, quiet area that isn't warm and doesn't get much foot traffic. Hens like privacy when they are laying.
No matter how diligent you are to make the hen nesting boxes the best place possible for them to lay, your hens may still lay on the coop floor.
I have had this happen when I went in to give my hens a mid afternoon treat of mealworms, chicken fodder or lactose free Instant Pot Yogurt. These are their all time favorites!
Even the hens in the nesting boxes jump out of their boxes with excitement. A few times I have seen a hen jump out and lay an egg right in the middle of their mealworm feeding frenzy!
So, even the well trained hens that usually lay in their nesting boxes will from time to time decide to go rogue and lay somewhere else!
---