Baby chicks grow up very quickly. In a chicks first several weeks of life, much of their energy is spent on growing in their new "big girl" or "big boy" feathers. Before you know it they will begin to kick up a lot of dust and start to smell.
It's time to transition them out of the cramped brooder box and into a larger enclosure, but are they ready to go outside?
You may be wondering, "When can baby chicks go outside?" The short answer is when they are fully feathered, around 6 weeks. Depending upon the outside weather and the type of enclosure you provide for them will determine how much sooner you can transition baby chicks outdoors.
1. When Can I Move My Chicks Out of the Brooder?
Chicks grow very quickly. A chicks first 4 weeks of life, they each need at least 1/2 square foot of space. From the fourth week through week eight this doubles to 1 square foot each.
As chicks grow, they get more active and will be testing out their new wings. They need more space to move around.
Brooder Size Requirements for Baby Chicks
# CHICKS
MINIMUM SPACE
WEEKS 1-4
MINIMUM SPACE
WEEKS 4-8
4 CHICKS
1′ X 2′
2′ X 2′
6 CHICKS
1′ X 3′
2′ X 3′
8 CHICKS
1′ X 4′
2′ X 4′
10 CHICKS
1′ X 5′
2′ X 5′
12 CHICKS
2′ X 3′
3′ X 4′
16 CHICKS
2′ X 4′
4′ X 4′
MINIMUM AMOUNT OF SPACE REQUIRED FOR BABY CHICKS WEEKS 1-8.
Once chicks reach about 4 weeks old, they are really active. They like to practice flapping their wings and flying across the enclosure. This is a good time to increase the space by at least twice the size.
For example, if you have 6 chicks that were originally in a 1′ x 3′ brooder, you will want to move 6 baby chicks that were originally in a 1′ x 3′ brooder into a brooder twice the size or 2′ x 3′.
2. How Cold is Too Cold for Baby Chicks?

When raising baby chicks without a mama hen, it is important that you keep the brooder at the appropriate temperature until the chicks are fully feathered. Most chicks are fully feathered by 6 weeks of age.
The required brooder temperature for chicks changes week by week. For healthy and thriving baby chicks it is very important to provide the appropriate temperature.
Weekly Temperature Chart for Baby Chicks
| AGE | HEAT |
| --- | --- |
| WEEK 1 | 95℉ |
| | |
| WEEK 2 | 90℉ |
| | |
| WEEK 3 | 85℉ |
| | |
| WEEK 4 | 80℉ |
| | |
| WEEK 5 | 75℉ |
| | |
| WEEK 6 | 70℉ |
| | |
3. When Can Baby Chicks Go Outside Without a Heat Lamp?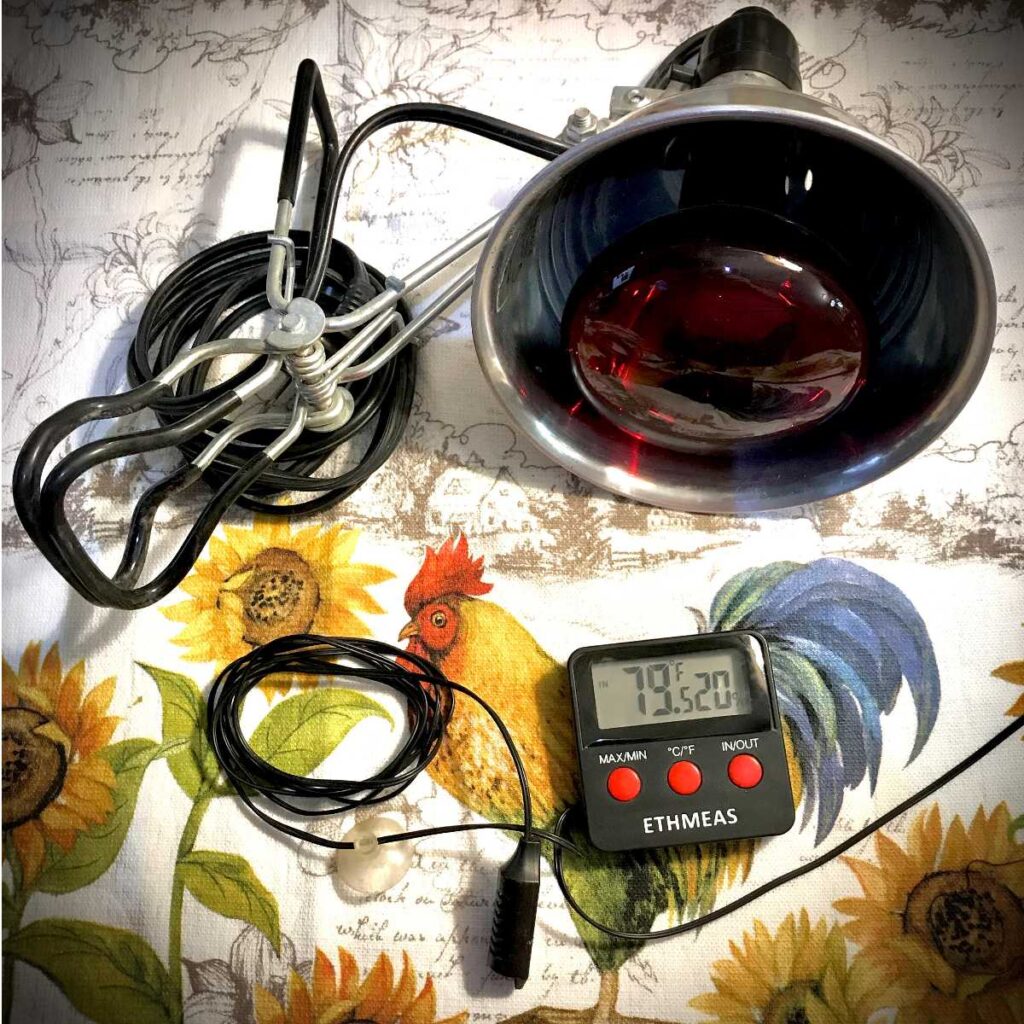 When afternoon temperatures reach the appropriate temperature for the age of your baby chicks, you can bring them outdoors for a a little supervised sunshine time.
So, if the outdoor temperature is 85℉, you can bring 3 week old chicks outside without a heat lamp, but it would be too cold to bring 1 week old baby chicks outdoors without additional heating.
If you want to bring your young chicks outdoors, but the outdoor temperature is still too cold, provide a heat lamp. This way, they can still get a little sunshine and keep sufficiently warm at the same time.
How to Tell if Your Baby Chicks are Cold
HOW TO TELL IF YOUR
BABY CHICKS
ARE COLD
CHICKS CHIRP LOUDLY
CHICKS HOVER TOGETHER
UNDER THE HEAT LAMP
DIARRHEA
"PASTY BUTT"
CHICKS PUFFED UP
CHICKS LEGS COLD
4. When Can Chicks Go Outside With Their Mother?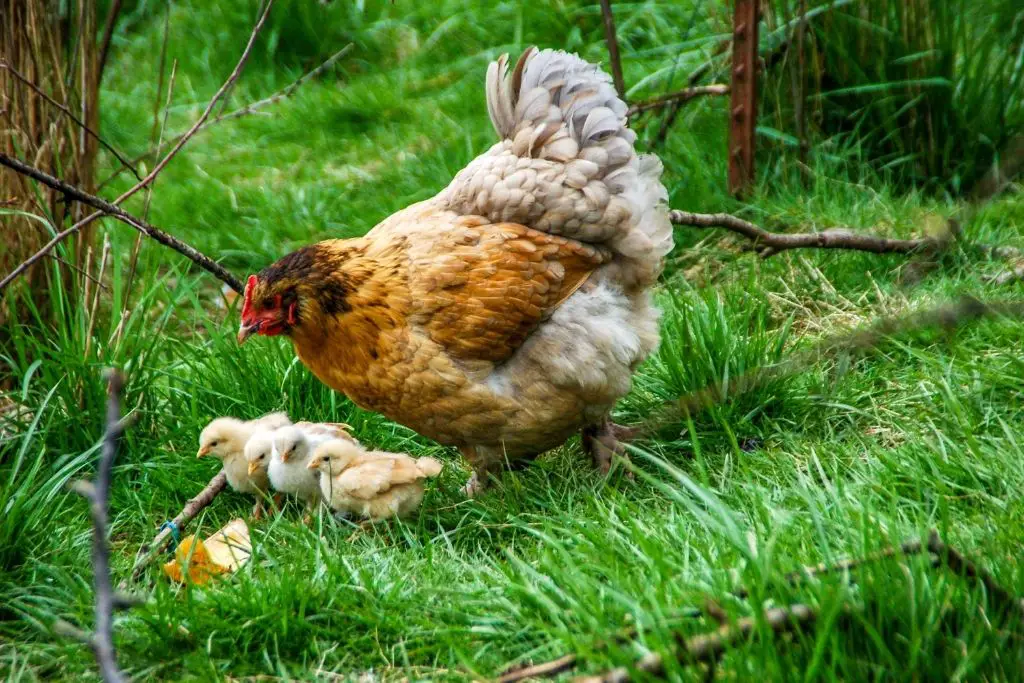 Chicks can go outside with their mother from the day they hatch.
A mother hen instinctively knows how to keep her baby chicks warm. After they hatch, she keeps them under her breast or belly until they are completely dried off.
A mama hens internal body temperature is about 106℉ and her skin is about 99.5℉. This is perfect for newly hatched chicks.
Baby chicks will stay close to their mama hen when she decides to venture out. Mama hen will begin teaching her chicks how to find food right away.
If a chick begins to stray off, mama hen will use her beak to pull her chick close to her and tuck them underneath her to keep them warm.
5. When Can Chicks Go Outside With Other Chickens?

If mama hen hatched a clutch of chicks, she will protect them from the rest of the flock and they will naturally integrate into the existing flock. If YOU are introducing two flocks, it is important to wait until they are of equal size before merging them together.
If you are planning on merging two flocks together, it is important to quarantine the new chickens away from the others for 30 days. This will minimize the spreading of any unknown diseases that the new chickens may be carrying.
After 30 days, you can bring the two flocks closer together, separated by chicken wire. This way they can get used to seeing and hearing each other.
When the younger chickens get to be of equal size to your already existing flock, you can try combining the two together.
Some people like to place the new chickens on the roost at night. Others like to combine the two flocks when they are out free ranging.
Either way is fine. I just suggest that you are able to monitor them in the morning when they wake up and leave the coop.
If you combine them while they are out free ranging, throw out some treats to keep them occupied. It is natural for there to be some pecking and chasing going on. They need to work out their "pecking order."
As long as they aren't drawing any blood, let them work things out.
If you notice that you have a bully chicken, place it "chicken jail" for a few days. This will help to knock it down a few notches.
Tips for Combining 2 Flocks of Chickens
Moving your chicks from the brooder to the chicken coop is a big step, but must be done appropriately for their safety.
TIPS FOR COMBINING
2 FLOCKS OF
CHICKENS
QUARANTINE NEW CHICKENS
FOR 30 DAYS
SEPARATE 2 FLOCKS WITH
CHICKEN WIRE
BOTH FLOCKS SHOULD
BE OF EQUAL SIZE
COMBINE 2 FLOCKS
AT NIGHT
INTRODUCE WHILE OUT
FREE RANGING
MONITOR THEM CLOSELY
BE PREPARED TO SEPARATE
AGGRESSIVE CHICKENS BY
PLACING THEM IN
"CHICKEN JAIL"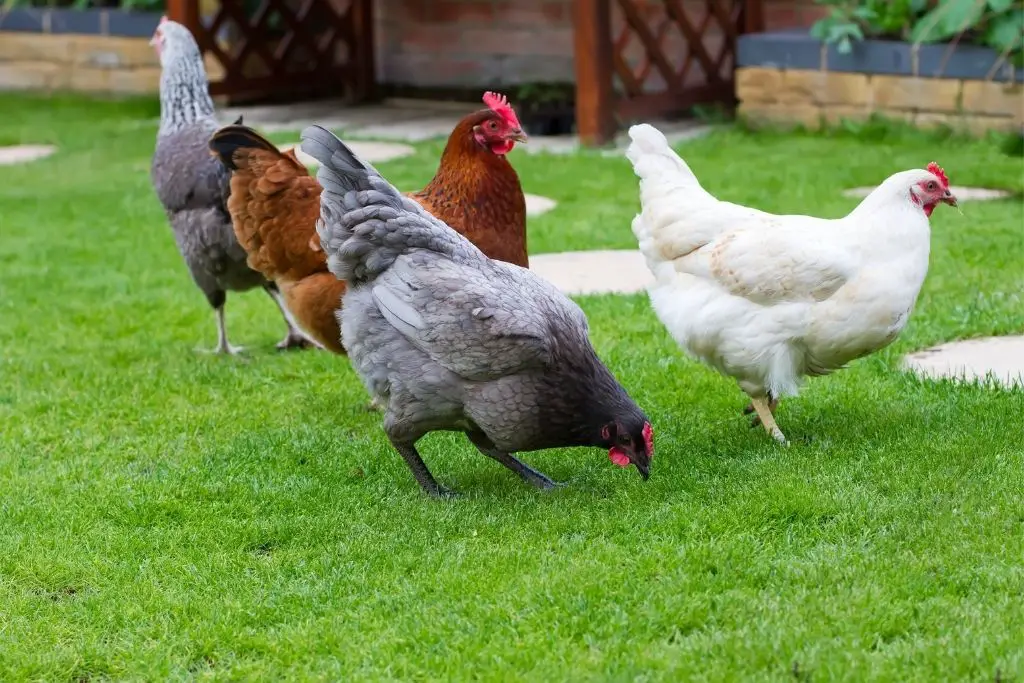 CONCLUSION: When Can Baby Chicks Go Outside? 5 Important Tips
As chicks get older, they also get bigger. They can be moved out of their smaller brooder and into a larger brooder about 4 weeks of age.
In order for baby chicks to thrive, their body temperature needs help being regulated. You can do this by providing artificial heat for them with a heat lamp. The required temperature the first week of age is 95℉ and it decreases by 5℉ each week.
When a chick is fully feathered, around 6 weeks, it can go outdoors without a heat lamp.
Baby chicks can go outdoors from the first day that they hatch if they are with their mama hen.
If YOU are the one combining two flocks, it is best to wait until they are of equal size. Make sure you are there to supervise because they will peck and chase each other to establish their pecking order. This is completely normal. You only need to intervene if there is blood shed.