The chicken coop is where your chickens will spend over half their time in so it is important to make it a safe, clean and happy environment for your flock. This is why it is important to have your chicken roosting bars set up properly. This article will show you:
Roosting bars are necessary so your flock has a safe place to roost at night. If roosting bars are not provided, they will sleep either in their nesting boxes or on the floor, predisposing them to parasites and several different common chicken diseases.
1. What Material Should Chicken Roosting Bars Be?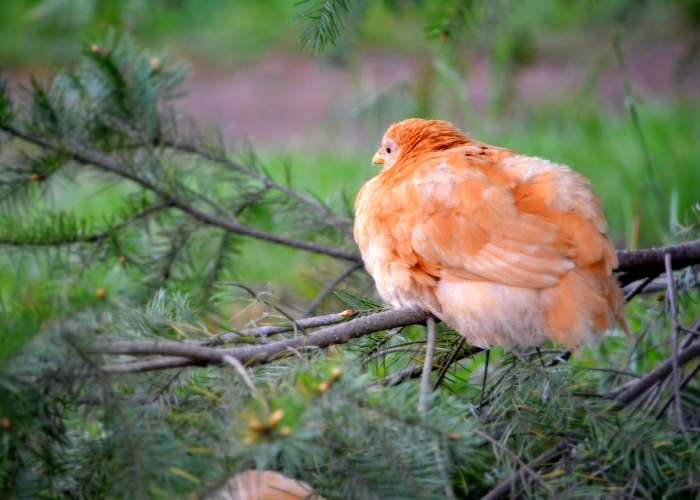 The best chicken roosting bars are those made from wood. Years ago, when chickens lived out in the wild, chickens roosted high up in trees to protect themselves from predators. They sought out the best and highest branches to settle down for the night.

Today, domesticated chickens instinctively will do the same thing.
Wood is the most common type of roosting bar used in chicken coops and can be made from tree branches or from wood that you buy at your local hardware or lumbar store.
If you are using scrap wood or wood purchased at your local hardware store, just make sure that it has not been treated with toxic chemicals such as pressure treated wood.
Sanding Rough Edges on Chicken Roosting Bars
When using lumbar, make sure there aren't any sharp edges, splintered wood or nails sticking out. You can do this by doing a quick sanding of the roosting bars before installing them in your coop.
If you decide to use tree branches, inspect for sharp edges and remove them with a quick sanding.
Avoid Using Toxic Tree Branches for Chicken Roosting Bars
There are several types of trees that can be toxic to your flock if ingested. The following is a list of some common trees that are toxic to chickens and should not be used for roosting bars:

COMMON TREES
TOXIC TO
CHICKENS
AVOCADO TREE
CHERRY TREE
RED MAPLE
WISTERIA
Avoid Metal Roosting Bars
Some chicken owners use metal ladders or poles for roosting bars. Metal is easier to clean, but it can be very uncomfortable for your chickens to roost on.
Metal roosting bars retain heat. During a hot day, metal bars can get hot enough to burn your chickens' feet.
Metal roosting bars will extract more heat from a chickens' feet than wood. This is especially bad in the winter time when they are trying to keep warm.
2. Do Chickens Prefer Round or Square Roosting Bars?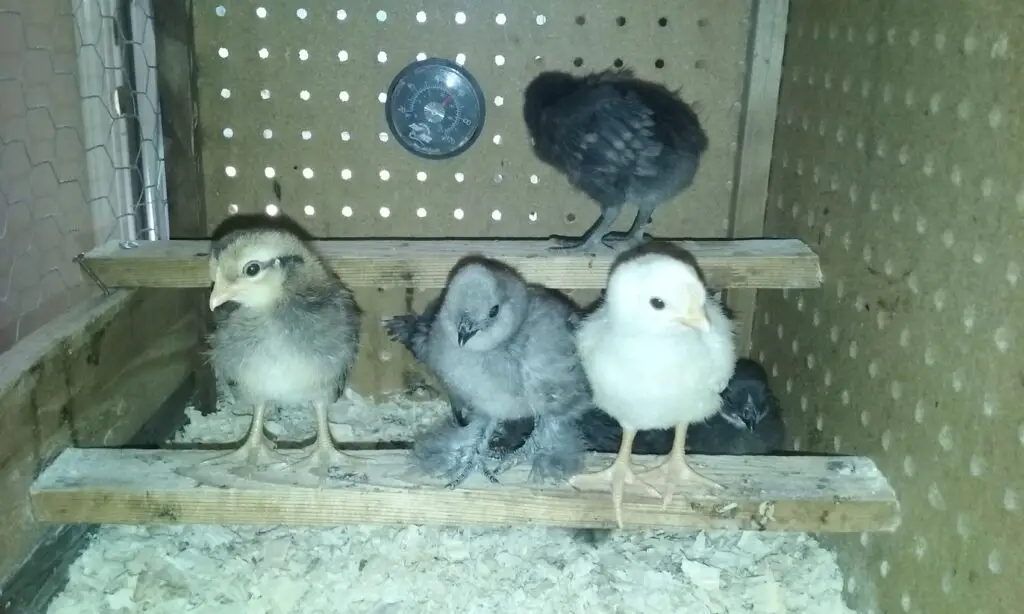 Chickens prefer rounded roosting bars. This can be either a round tree branch or a piece of wood (such as a 2″ x 4″) that is rounded (sanded) at the edges.
3. Best Diameter for Chicken Roosting Bars
Adult chickens prefer roosting bars that are 2″-4″ in diameter and rounded at the edges. Younger chicks require a smaller diameter roosting bars, 1″-2″.
For smaller chickens, place the 2″x4″ or 1″ x 2″ with the 2″ facing upright
For larger chickens, place the 2″ x 4″ with the 4″ facing upright.
What Happens if the Chicken Roosting Bars are Too Narrow?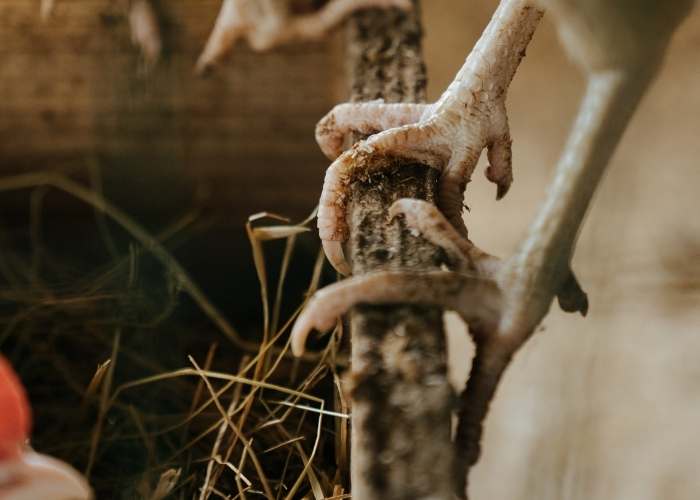 Chickens prefer to be able to "rest" on a roosting bar instead of wrapping their toes around it. If the roosting bar is too narrow for their size, they will need to wrap their toes around the roost and balance on the roost throughout the night. This doesn't allow them to get a good nights sleep.
Also, if the roost is too small, it can cause chickens toe nails to curl under and cut into its feet while grasping the perch throughout the night.
They are also more likely to lose balance and fall the perch at night.
What Happens if the Chicken Roosting Bars are Too Wide?
Chickens do most of their pooping at night, so you want to make sure that the roosting bars are not too wide and allow their backend to hang out far enough so the poop hits the floor and not the bars. This is why using flat boards is not recommended.
4. Best Chicken Roosting Bar Height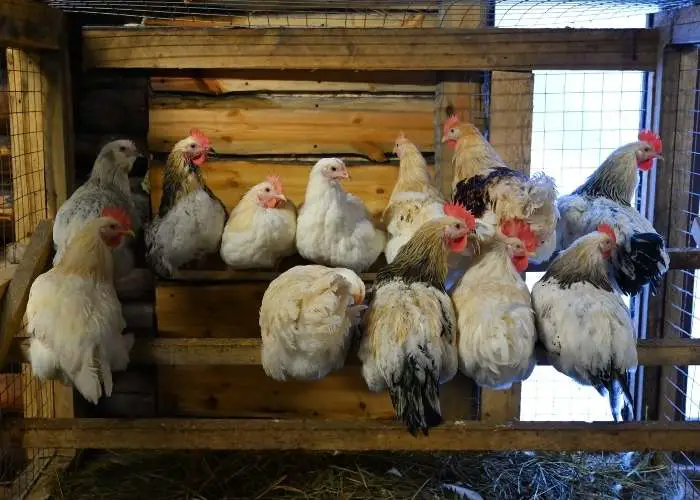 Roosting bars that are placed properly will provide:
a safe place for your chickens to roost on at night.
Discourage them from sleeping on the floor.

Chickens that sleep on the coop floor are predisposed to getting parasites and several different common chicken diseases.

Discourages chickens from roosting in their nesting boxes.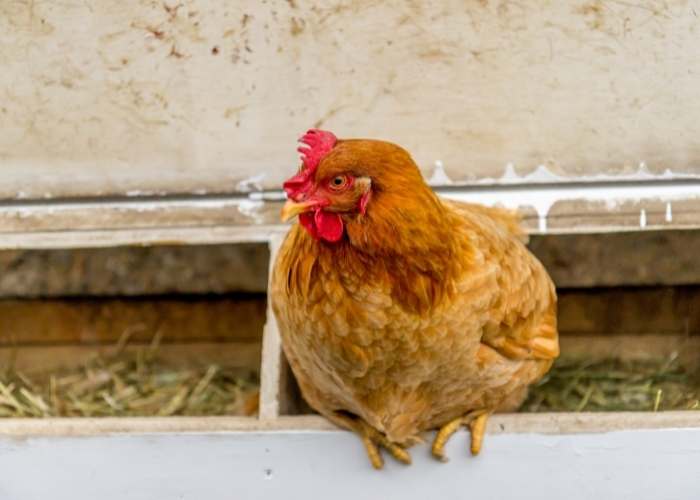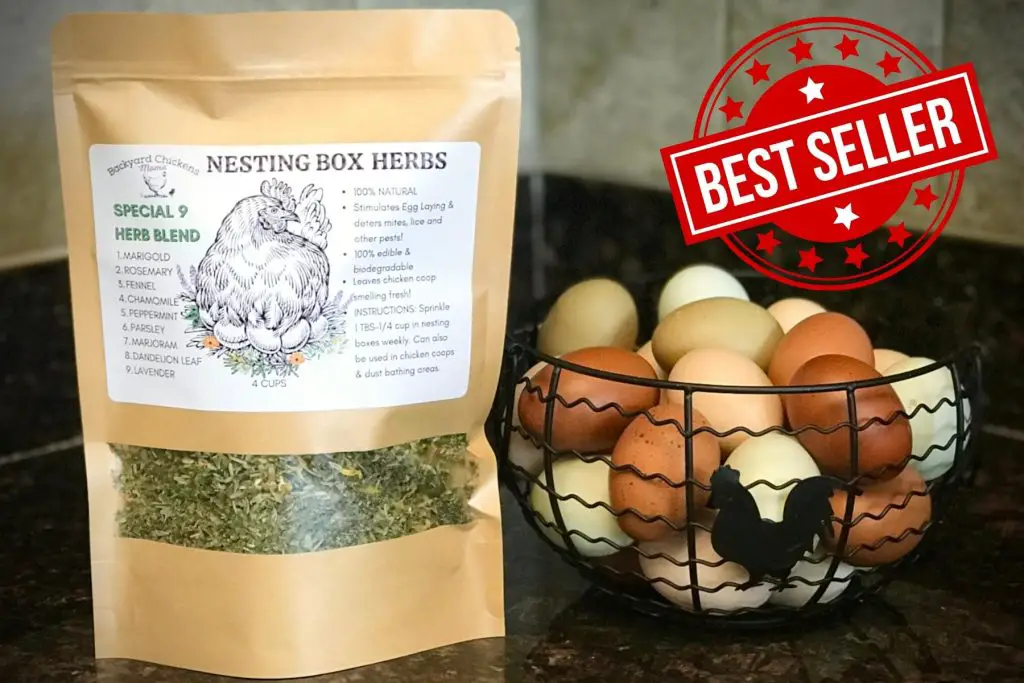 Nesting Box Herbs for Egg Laying Chickens
STIMULATES EGG PRODUCTION
DETERS PESTS: Mites, Lice, Flies, Fleas, Mosquitos, Snakes & more!
100% NATURAL and Edible
FRESH Smelling
FREE SHIPPING
Makes Chickens HAPPY!
Silkie Roosting Bars
Silkie chickens cannot fly and cannot see as well due to their "fluff" that covers their eyes. Because of this, many Silkies can be seen nesting on the coop floor for the night.
To help prevent your Slikies from doing sleeping on a dirty coop floor, provide a roosting bar at around 12″ off the coop floor. Sometimes this is all that is needed and they may even hop to the highest roost.
How Low Should the Lowest Chicken Roosting Bar Be?
If you have Silkies, provide a roosting bar that is 12″ off the ground. If not, the lowest roost should be around 18″ off the coop floor.
The lowest roosting bar should also be higher than the chicken nesting boxes and located on the opposite side of the coop.
How High Should the Highest Chicken Roosting Bar Be?
The highest chicken roosting bar shouldn't be any higher than 4′ off the ground. Any higher than this can cause injury to a chicken if it happens to fall or jump off of the roost. The highest roosting bar should be away from any windows or vents that can cause your chicken to chill or predispose them to predator attacks.
ROOSTING BAR
HEIGHT
LOWEST ROOSTING BAR
(WITH SILKIES)
SHOULD BE 12″
LOWEST ROOSTING BAR
SHOULD BE 18″
SHOULD BE HIGHER
THAN NESTING BOXES
LOCATED ON OPPOSITE
SIDE OF COOP
HIGHEST ROOSTING BAR
4′
PLACE AWAY FROM
ANY DRAFTS
DO NOT PLACE ROOSTING
BARS ABOVE NESTING BOXES
5. How Far Apart Should Chicken Roosting Bars Be?
Roosting bars should be spaced 12″ apart both horizontally and vertically. This is important so your chickens won't poop on each other or on the roost below it. 12″ is the perfect distance that your chickens can hop both up and hop down from.
So, if you are planning on putting 4 roosting bars up, you will need to place the first roosting bar 4′ from the wall.
IF YOU WANT
THIS MANY
ROOSTING
BARS
INSTALL LOWEST
ROOSTING BAR
THIS MANY FEET
FROM WALL
4
4′
3
3′
2
2′
1
1′
ROOSTING BAR PLACEMENT
I like to place my first roosting bar 12″ off the ground because my Silkies like to roost on the lower bars. Because I have 4 roosting bars, the lowest bar needs to be 4′ from the wall. Then I place the second roosting bar 12″ closer to the wall at 24″. Then my 3rd bar is at 36″ and the top roosting bar is at 48″ and is 12″ from the wall.
6. How Many Chicken Roosting Bars Do I Need?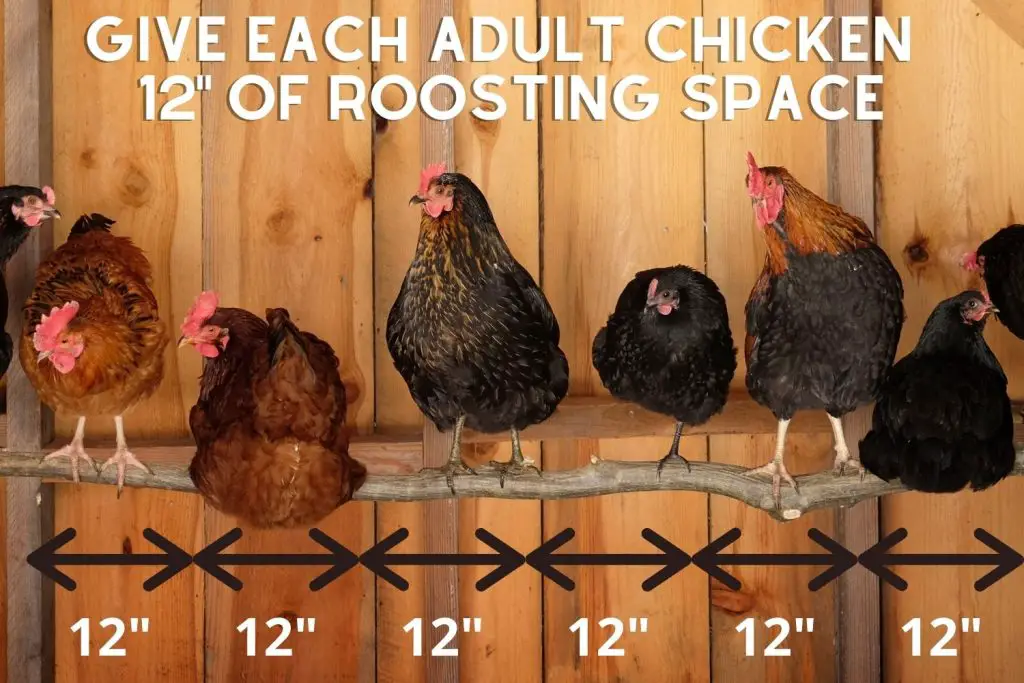 It is important to provide enough roosting space for your chickens. If you don't, they are likely to fight, bully and those lowest in the pecking order will end up sleeping on the coop floor. You are better to error on too much roosting space than not enough.
Adult chickens need at least 12″ of roosting space.
Larger breed chickens need up to 14″ of roosting space.
Bantam breeds need around 10″ of roosting space.
# ADULT
CHICKENS
REQUIRED
ROOSTING BAR
SPACE
6
6 FEET
(1) 6 FOOT ROOST
(2) 3 FOOT ROOSTS
8
8 FEET
(1) 8 FOOT ROOST
(2) 4 FOOT ROOSTS

10
10 FEET
(2) 5 FOOT ROOSTS
12
12 FEET
(2) 6 FOOT ROOSTS
(3) 4 FOOT ROOSTS
(4) 3 FOOT ROOSTS
24
24 FEET
(2) 12 FOOT ROOSTS
(3) 8 FOOT ROOSTS
(4) 6 FOOT ROOSTS
(6) 4 FOOT ROOSTS
MINIMUM REQUIREMENT OF ROOSTING SPACE FOR ADULT CHICKENS.
7. Cleaning Chicken Roosting Bars
Make Chicken Roosting Bars Easy to Remove
One good tip that I highly recommend is to make your roosting bars removable. This makes cleaning both the roosting bars and the chicken coop a lot easier!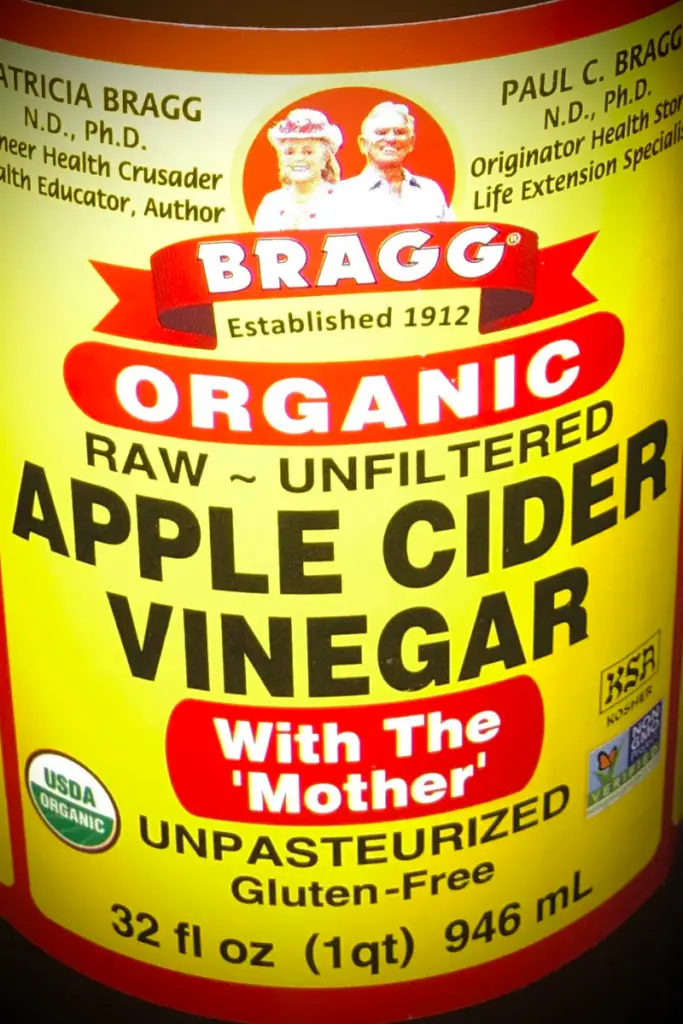 How to Clean Roosting Bars
Remove the chicken roosting bars and give it a good spray with a high power hose.
Spray it with an apple cider vinegar/water solution, 1:1.
Let it set for 5-10 minutes.
Take a high powered hose or pressure washer and wash all the softened poop off.
Set it out in the sun to air dry before returning it to the coop.
Apple cider vinegar has antibacterial properties. It not only will help to kill bacteria, but it will also kill any mites, lice and other parasites that may be attached to the roosting bar.
For some really good ideas on building chicken roosting bars, read 11 DIY Chicken Roosting Bar Plans You Can Make Today.
CONCLUSION: 7 Best Tips-How to Set Up Chicken Roosting Bars
Wood is the best material to use for chicken roosting bars. Make sure that it doesn't contain any chemicals.
Chickens prefer roosting bars that are rounded. So if you are using 2″x4″'s, sand the corners and any rough edges.
The best diameter roosting bars for adult chickens are between 2″-4″ and 1″-2″ for a young chick.
Chicken roosting bars should be at least 12″ off the ground and no higher than 4 feet.
Roosting bars should be 12″ away from each other both horizontally and vertically.
Each adult chicken needs a minimum of 12″ of roosting space, slightly less for bantam breeds and slightly more for large breed chickens.
Make your roosting bars removable. This makes cleaning both them and the coop much easier!
---