Changes in a chickens comb and wattle can tell you many things about their well being, sexual maturity and can be used to attract mates, distinguish between others in the flock as well as be used to cool themselves down.
What is a Comb and Wattle?
All chickens have some type of a fleshy growth or "comb" on top of their head. They also have two thin, fleshy growths hanging down below their bill called a "wattle."
| COMB SYMPTOM | WHAT IT MEANS |
| --- | --- |
| RED, ROSY | MATURE, HEALTHY, HAPPY CHICKEN |
| BRIGHT RED | CHICKEN IS HOT |
| PALE | NOT SEXUALLY MATURE, HEAT EXHAUSTION, STRESSED, BROODY, MOLTING |
| BLACK SPOTS | FROSTBITE, FOWL POX, BEING PECKED AT BY OTHER CHICKENS |
| WHITE SPOTS | FROSTBITE |
| PURPLE | CIRCULATORY PROBLEMS, CHOKING, HEART ATTACK, STROKE |
| EXTREME RED | CIRCULATORY PROBLEMS, CHOKING, HEART ATTACK, STROKE |
| FLOPPY | OLD HEN, JUST LAID AN EGG, BROODY, ILLNESS, DEHYDRATION, JUST LAID AN EGG |
| MISSING PARTS | PICKED ON / BULLIED BY OTHERS IN FLOCK |
Combs and Wattles Can Cool a Hot Chicken
A chicken with a bright red comb and wattle has a lot of blood circulating throughout it. It can be an indicator that (1) your chicken is hot. It will use its comb and wattle to cool down.
When the weather is hot, blood circulates through the tiny capillaries inside the comb and wattle, thus cooling the chicken down.
Chicken's aren't like humans. They cannot sweat. When blood runs through the comb and wattle, heat is easily transfers to the outside air. So, blood running through its comb and wattle is like having its own built in air conditioner.
You will notice that breeds of chickens that have adapted to living in a hot climate have larger combs and wattles. Chicken breeds that have adapted to cooler climates have smaller combs and wattles.
What Does a Pale Comb and Wattle Indicate?
A pale comb and wattle can indicate a hen or rooster is not sexually mature yet, has parasites, is stressed, molting or just laid an egg.
When a hen or rooster has a pale comb it could mean they are (2) not sexually mature. Sexually mature hens and roosters have a bright red colored comb and wattle.
A roosters comb and wattle are usually quite larger than a hens. He uses his large comb and wattle to woo her when he is wanting to mate. The larger and redder it is, the more likely she is to recognize him.
A pale comb can also be telling you that it (3) is suffering from heat exhaustion. If this is the case, it is imperative that you cool your chicken down. Make sure that they have access to cool drinking water and shelter to get away from the heat.
A pale comb or wattle can also indicate that your chicken (4) is stressed for some reason. This can be due to multiple reasons. I have indicated the most common in the list below.
When a chicken is (5) molting, it is very common for their comb and wattle to turn pale in color. Molting is when a chicken looses its old feathers to grow in a new set of full, fluffy feathers to better insulate them during the upcoming cold weather. When a chicken is molting, it puts most of its energy into growing new feathers. It is hard work growing new feathers! This is also why most laying hens stop laying during a molt.
Floppy Combs
COMMON TRIGGERS
OF STRESS IN
CHICKENS
Predators Getting Into Coop at Night
Neighborhood Dog is Terrorizing Them
Kids are Chasing Them
Overcrowded
Injury
Illness
Insect infestation
Extreme Heat
Extreme Cold
What Causes Black Spots on Comb and Wattle?
Black spots on your hen or rooster can be an indicator that it (6) had suffered from frostbite.
Chickens, generally are pretty hardy birds and can tolerate cold temperatures. But they are prone to frostbite on their combs and wattles in extreme cold weather.
This is especially seen in chickens that are exposed to humidity and cold temperatures at the same time. Any moisture on a chickens comb or wattle during extreme cold temperatures can cause frostbite to the tissue.
When the fluids in a chickens comb or wattle freeze, the tissues are neglected of circulating blood flow. This causes the tissue to die and turn black.
Have you ever watched a chicken drink water? It dips its beak down into the water, (if it has a large comb it can flop into the water) and then throws its head back, sometimes dribbling water down its wattle. Wet + Freezing Temperatures = Frostbite
A chickens comb and wattle is the only soft, fleshy skin that is exposed to extreme cold temperatures. When they perch at night to sleep, they cover their shanks and feet with their downy feathers!
The best thing to do is to protect your chickens from developing frostbite in the first place. I like to wait until my chickens are roosting at night and then I rub a little bit of petroleum jelly on their combs and wattles.
It's a lot easier to wait until they are roosting at night to do this than chasing them down in the daytime!
For more information on how to keep your chickens warm during the winter read my article, 15 Important Tips – How to Raise Happy Chickens in Winter.
Another reason your chicken may have black spots is due to having (7) fowl pox. This is the chicken form of "chicken pox" that humans get.
If your chicken has fowl pox it will also exhibit other symptoms such as lethargy, diarrhea, loss of interest in moving around, not wanting to eat and weight loss.
Black spots can also be (8) scabs from being pecked at by others in the flock. Keep an eye on this. Chickens can sometimes bully others in the flock. They go crazy when they see blood too.
You might need to separate them or at least keep a careful watch that they don't take it too far. Sometimes, when they are trying to establish their pecking order, they can get quite mean! If you have to, re-home the chicken that is the bully.
Purple or Extreme Red Comb or Wattle
If your chicken develops either a purple or very, very red comb or wattle this can indicate that they are having some sort of circulatory problem. They can be (9) choking on something, (10) having a heart attack or even a (11) stroke.
If your chicken normally has a comb that stands upright, but is suddenly floppy, that may be an indicator that (12) it is dehydrated. A chickens comb is made up of mostly water and if it is dehydrated can flop over.
Make sure that your chicken has access to more than one source of water. You can even add a little bit of electrolytes to the water to help perk it up.
Another reason that your hen may have a floppy comb is because she (13) just laid an egg. Normally, a laying hens comb is bright red.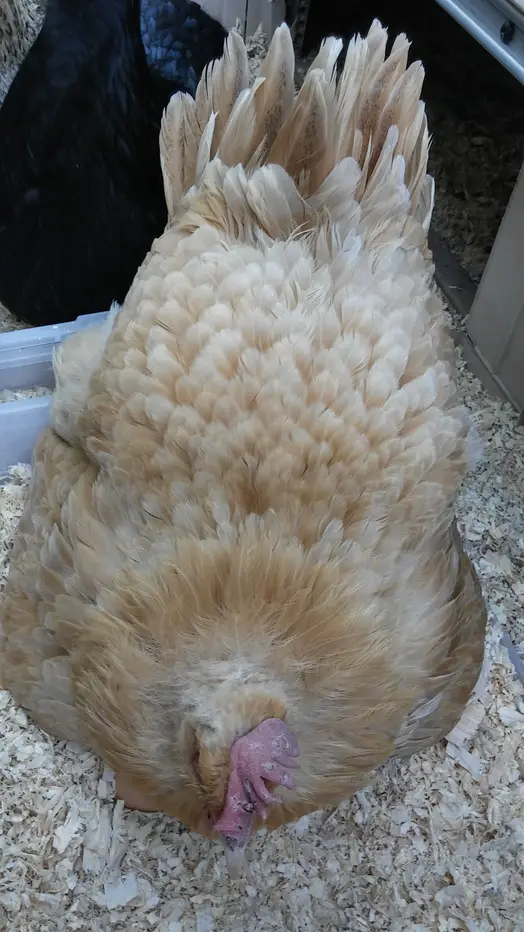 When she is working on laying an egg, the blood redirects to the muscles that contract to help her lay an egg. This is why sometimes your hen's comb will be drooping when she leaves the hen box! Give her a little time and it will be standing upright again.
Another reason for a floppy comb can just be that your chicken (14) is old. As a chicken ages, their comb and wattles continue to grow. Kind of like as humans age, our ears and nose continues to grow.
Different Types of Combs
There are a total of 9 different types of recognized chicken combs; Buttercup, Carnation, Cushion, Pea, Rose, Single, Strawberry, V and Walnut.
Many times due to cross breeding, it can result in a chicken having a comb that the breed does not usually have. These are typical breeds that possess each of the combs.
| COMB TYPE | CHICKEN BREED |
| --- | --- |
| SINGLE | ORPINGTONS, COCHINS, ANCONAS, ROCKS, AUSTRALORPS, MINORCAS, LEGHORNS, REDS, MARANS, FAVEROLLES, DORKINGS, SUSSEX, LAKENVELDERS, TURKENS – NAKED NECKS, GIANTS, PHOENIX, LANGSHAN |
| PEA | AMERAUCANA, ARAUCANA, BRAHMA, CORNISH, BUCKEYE, CUBALAYA BREEDS |
| WALNUT | SILKIE |
| V-SHAPED | POLISH, SULTANS, HOUDANS, LA FLECHE, CREVECOEURS |
| BUTTERCUP | SICILIAN BUTTERCUP |
| CARNATION | PENEDESENCA, EMPORDANESA |
| ROSE | WYANDOTTES, DOMINIQUES, SEBRIGHTS, HAMBURGS |
| CUSHION | CHANTECLERS |
| STRAWBERRY | YOKOHAMAS, MALAYS |
9 COMB TYPES AND BREEDS THAT POSSESS THEM
| COMB TYPE | CHARACTERISTICS |
| --- | --- |
| SINGLE | Single, smooth, soft comb beginning at beak – back of head. Contains about 6 fleshy ridges. |
| PEA | Low, medium sized comb with 3 ridges from top of beak – top of head. Center ridge is slightly raised with pea-like protrusions. |
| WALNUT | Medium sized, solid comb. Combination of both Rose and Pea Comb. Resembles a walnut. |
| V | V-shaped. Two solid, thick points at base of beak. Looks like horns. |
| BUTTERCUP | Has a very short single comb down the center with two larger combs on either side. |
| CARNATION | Single comb with several lobes in the back. |
| ROSE | Flat and close to the head. Runs from beak to back of head. Front 2/3 covered in round bumps, similar to a rose. Back end comes to a point. |
| CUSHION | Round, small, smooth comb without any ridges or points. Runs from top of beak – only short way up head. |
| STRAWBERRY | Similar to Rose, but are not as flat and does not form a point. Looks like a strawberry. |
CONCLUSION: Do You Know What Your Chickens Comb is Telling You?
Changes in your chickens comb and wattle can tell you many things about them, including their health, sexual maturity and well being. Everyday, take time to observe your flock so you are aware of any problems that may be going on. The appearance of your hen or roosters comb and wattle is their way of telling you how they are doing. Listen to what they are telling you and if there is something going on, take care of it as soon as possible.